Transmission Services at Bob Ruth Ford
There's much more to a transmission than most people think. Often it is only viewed as one big part that performs one essential function when in reality, there are many aspects of your transmission that need maintenance. You don't have to go it alone when it comes to Ford transmission maintenance in Dillsburg, PA. Bob Ruth Ford has Ford-certified technicians on staff, equipped with genuine OEM parts and products that will ensure your transmission keeps working for as long as possible. We help our customers stay on top of their transmission maintenance by working with them to schedule proactive transmission service appointments rather than waiting until their transmission shows signs of trouble. Schedule your appointment online today, and we'll show you why your transmission is best serviced at Bob Ruth Ford in Dillsburg, PA.
Transmission Services
Transmission Inspection - If your vehicle's transmission is showing signs of trouble, from difficulty shifting to odd noises to a slipping transmission, our certified technicians can inspect the transmission to find the root of the problem.

Transmission Fluid Exchange - All transmission fluid acts as a lubricant, and automatic transmission fluid also serves as a coolant; when this fluid gets old, it's important to have it changed in order to keep your transmission functioning.
Learn More
Transmission Replacement - While transmissions can sometimes be repaired, it often ends up being less expensive to simply replace a damaged or worn transmission entirely; our expert technicians can replace your transmission here.

Common Bad Transmission Problems and Symptoms
As with all things car maintenance, proactiveness can be the make or break factor for your transmission. Stay ahead of the game, and schedule service when your owner's manual indicates, and your transmission will be set up for success. If you neglect transmission service or put things off until the last minute, you'll be taking time off of your transmission's life. Schedule your transmission services exactly when your owner's manual says that you should, and be aware of these key indicators of transmission troubles to maximize your transmission performance:
Difficulties shifting gears
Clunking or grinding sounds when changing gears
Smoking or burning coming from the transmission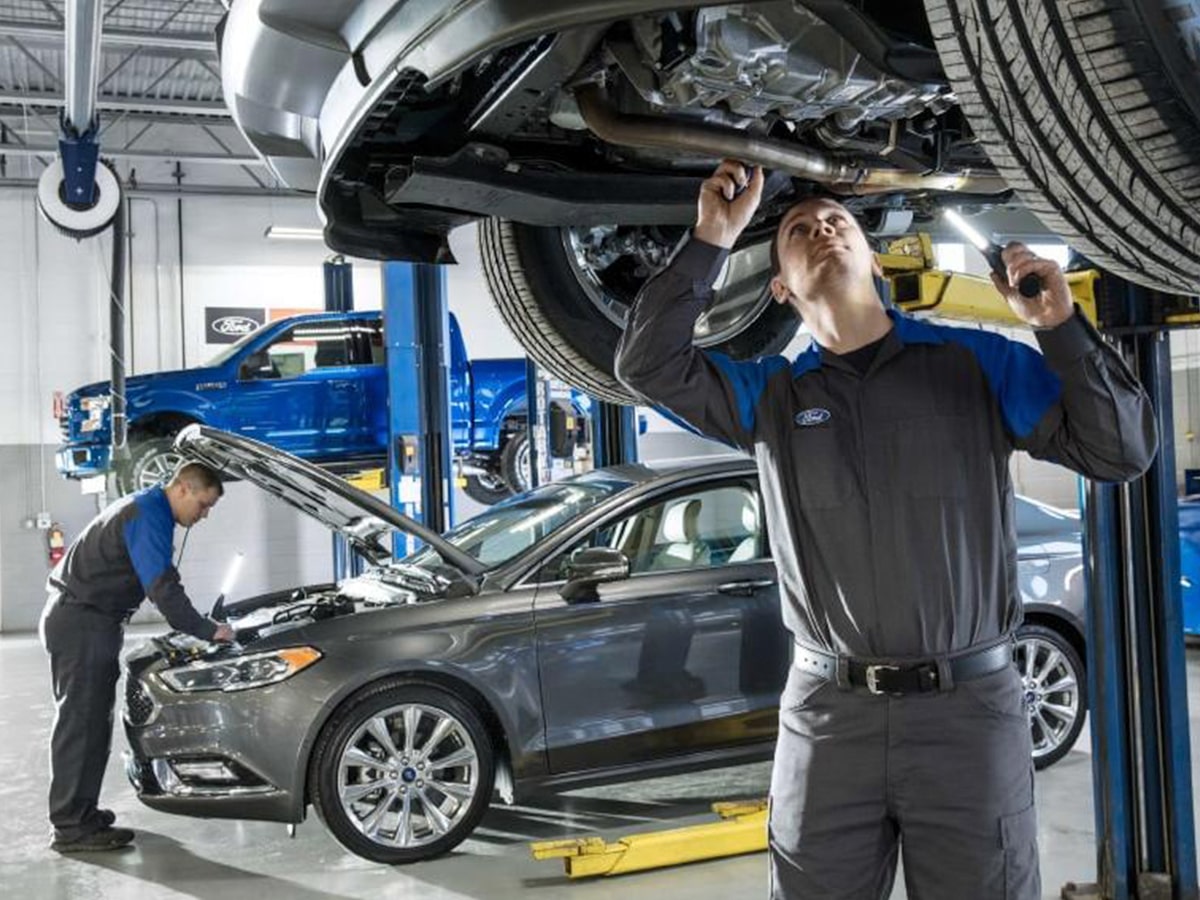 What Good Ford Transmission Service Looks Like
Our proactive services include transmission inspections and transmission fluid exchanges, but our transmission services don't stop there. Should your transmission ever become damaged beyond repair, our certified technicians are more than qualified to replace it. They have access to the genuine OEM parts necessary to restore your driving experience to its full potential. Give your Ford the service it deserves by scheduling your transmission service online as soon as possible at Bob Ruth Ford.
Schedule Complimentary Multi-Point Inspections for Ford Vehicles in Dillsburg, PA
Transmission problems can have several contributing factors and can cause subsequent problems in other systems as well. Be sure to have the rest of your vehicle inspected using our complimentary multi-point inspections at Bob Ruth Ford so that you can rest easy knowing that your vehicle is in excellent condition or resolve other problems as necessary. We reward you for your business at Bob Ruth Ford - make the trip to our Dillsburg, PA Ford service department for transmission services when you need them. You'll see why customers from New Kingstown, Valley Green, Mt. Holly Springs, and Boiling Springs trust us for service.
Complimentary Bob Ruth Ford Amenities
Complimentary Wi-Fi
Complimentary Multi-Point Inspection
Courtesy Transportation Shuttle
Genuine OEM Parts
Ford Quick Lane®
Home / Office Pick-up & Delivery