Ford Wheel Alignment Services in Dillsburg, PA
Bob Ruth Ford has seen and done it all when it comes to wheel alignment services. We've had customers who need extensive wheel alignment services to address issues related to collisions, and we've had customers who just need a quick adjustment to rectify minor alignment issues caused by wear and tear. Whichever category you fall into, know that the answer to your Ford alignment problems lies with the certified technicians available at Bob Ruth Ford. In Dillsburg, PA, our Ford service department is equipped with the latest and greatest technology, genuine OEM parts, and all necessary equipment to restore your Ford car, truck, or SUV's alignment back to factory settings. Fixing alignment problems before they become major issues can save you time and money. Schedule your wheel alignment service online today with Bob Ruth Ford.
Wheel Alignment Services
Two-Wheel Alignment - Also known as a front-end alignment, two-wheel alignment is generally performed on vehicles with a solid rear axle; it involves inspecting and adjusting the camber, toe, and caster angles on the front wheels.

Four-Wheel Alignment - Vehicles with independent or semi-independent rear suspensions will need to have the camber, toe, and caster angles inspected and adjusted on all four wheels; this is also called an all-wheel alignment.
Learn More
Two-Wheel and Four-Wheel Alignments at Bob Ruth Ford
The service you need depends on the symptoms you're experiencing and the configuration of your vehicle. Independent four-wheel suspension vehicles and vehicles that have issues with non-alignment of rear axles will likely need four-wheel alignment services, while almost all other vehicles will only need two-wheel alignment services. Either service includes an alignment adjustment and a suspension system inspection, where our certified technicians will check for any damaged parts that could be contributing to your wheel alignment problems.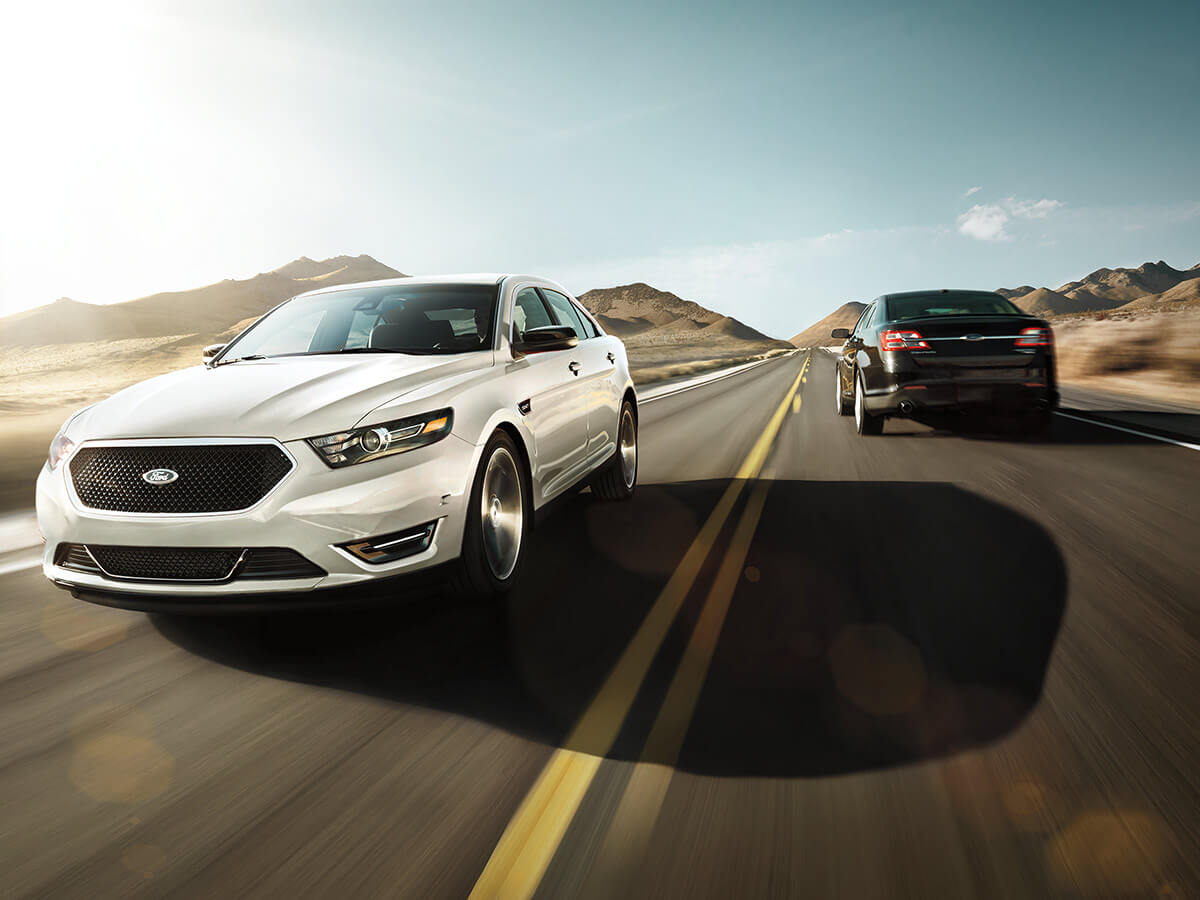 Causes and Symptoms of Wheel Alignment Problems in Your Car, Truck, or SUV
Causes for wheel alignment troubles may vary dramatically, but the symptoms are almost always the same. Wheel alignment troubles can arise due to the gradual wear and tear of daily driving, or your wheels can be knocked out of alignment by hitting a pothole, a curb, or any other obstacle that jars your wheels. Of course, being in an accident can also create significant wheel alignment problems. The symptoms will be all too familiar for customers who have experienced them before - be sure to be wary of these symptoms, and get them resolved as soon as possible:
A vehicle that won't drive in a straight line on a flat, straight road
The steering wheel has to be held at an angle to drive in a straight line
Vibrations in your steering wheel or driver's seat
Rapid, uneven tire wear
Home/Office Pick-up and Delivery Services in Our Ford Service Department in Dillsburg, PA
Get your Ford car, truck, or SUV's alignment problems resolved from the comfort of your own home by using the home/office pick-up and delivery service at Bob Ruth Ford. Simply request the service online by scheduling your next wheel alignment service on our website at Bob Ruth Ford in Dillsburg, PA. You will see why drivers in Boiling Springs, Valley Green, New Kingstown, and Mt. Holly Springs choose us for Ford service.
Complimentary Bob Ruth Ford Amenities
Complimentary Wi-Fi
Complimentary Multi-Point Inspection
Courtesy Transportation Shuttle
Genuine OEM Parts
Ford Quick Lane®
Home / Office Pick-up & Delivery